StarCraft II: players seeding and schedule of Grand Finals
WESG 2017 Grand Final will kick off from March 13th to 18th at Haikou, Hainan Province, China. It's time to reveal seeding of teams and schedule of matches .
StarCraft II is divided into three stages:
First Group Stage: 32 players divided into 8 competing groups
Second Group Stage: 16 players divided into 4 competing groups
Single-Elimination stage(The scene to draw)
The format of both group stages is round robin with the top 2 players of each group will be advancing into the next round. A more detailed schedule, including exhibition matches, will be announced later.
Distribution of prize-pool for WESG StarCraft II Grand Finals:
General Group
1st place - $200,000
2nd place - $80,000
3th place - $40,000
4th place - $20,000
5-8th place - $10,000
9-16th place - $2,500
Best 2 players from each group will advance to the next stage. First Group Stage draw below
Group A-D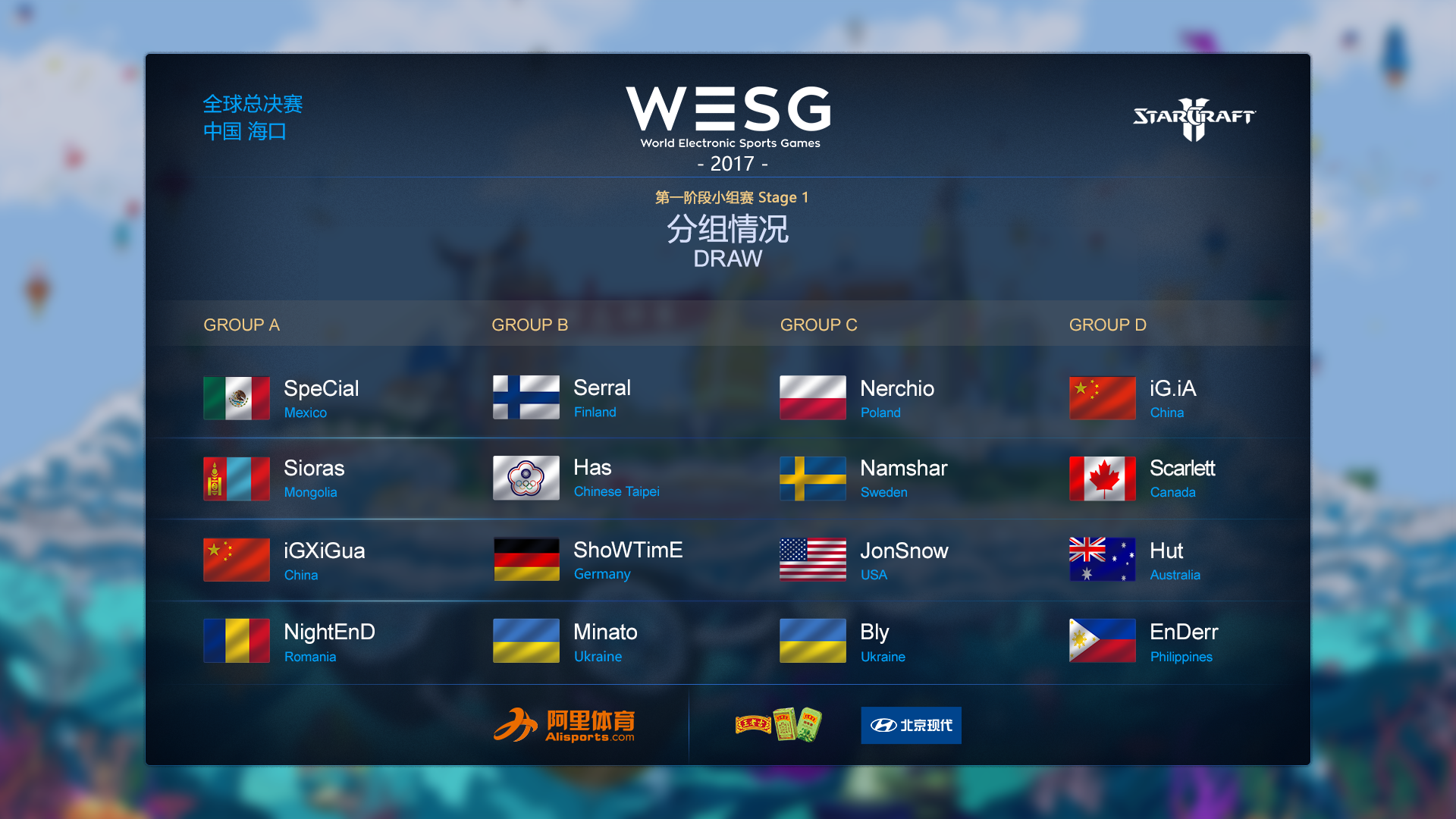 Group E-H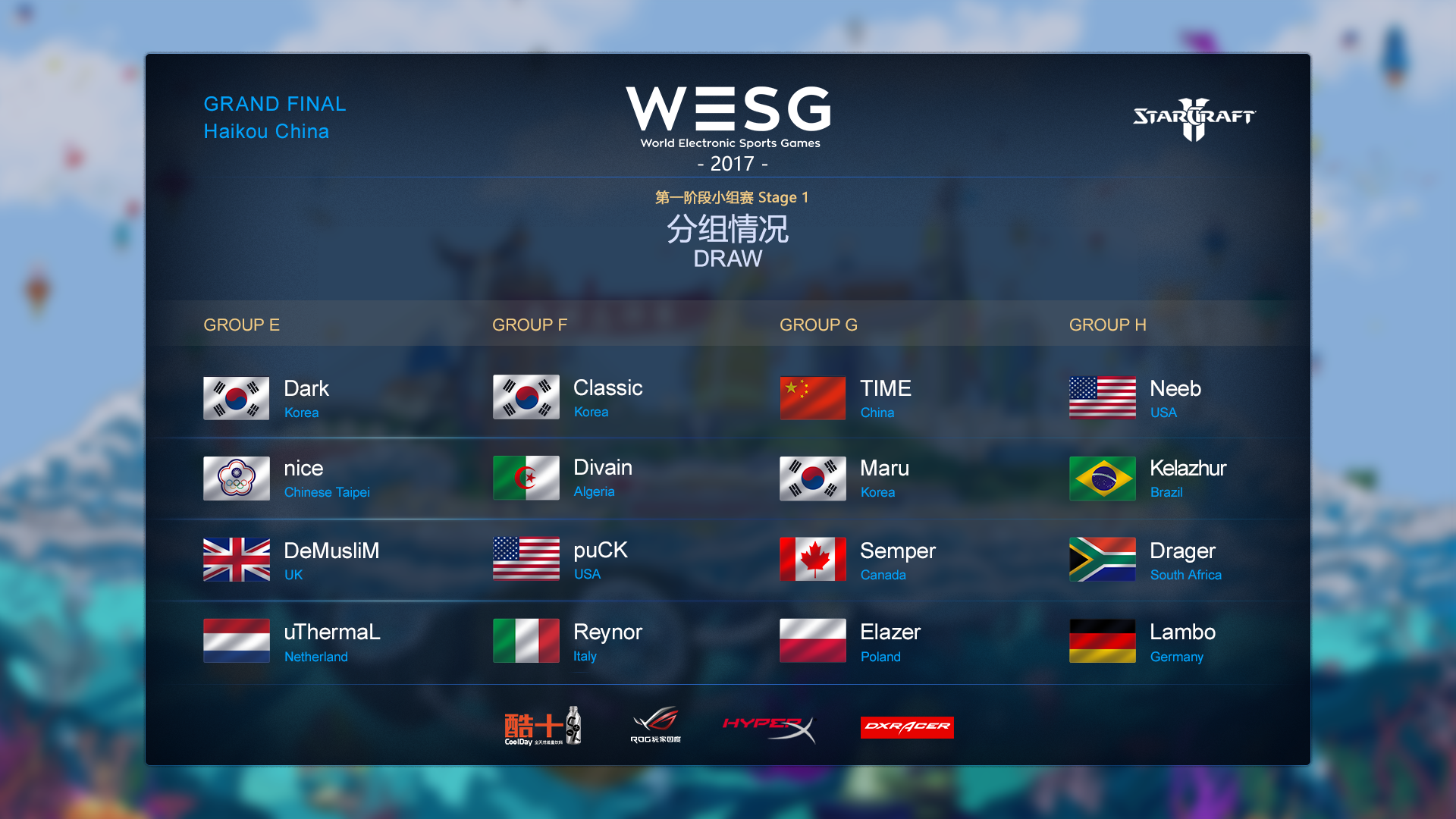 Schedule of WESG 2017 Grand Finals in StarCraft II:
March 13

TIME GMT+8

match

11:00

A - SpeCial vs XiGua

A - Sioras vs NightEnD

11:45

С - Nerchio vs Namshar

C - Jonsnow vs Bly

12:30

A – SpeCial - NightEnD

A – Sioras vs XiGua

-

-

13:15

C - Nerchio vs Bly

C - Namshar vs Jonsnow

-

-

14:00

A - XIGua vs NightEnD

A – Sioras vs SpeCial

-

-

14:45

C - Nerchio vs Jonsnow

C - Namshar vs Bly

-

15:30

B - Serral vs Has

B - ShoWTimE vs Minato

-

-

16:15

D - iAsonu vs Scarlett

D - HuT vs StriKe

-

-

17:00

B - Has vs ShoWTimE

B - Serral vs Minato

-

-

17:45

D - iAsonu vs HuT

D - Scarlett vs StriKe

-

-

18:30

B - Serral vs ShoWTimE

B - Has vs Minato

-
-

19:15

D - Scarlett vs HuT

D - StriKe vs iAsonu

-

-
March 14

TIME GMT+8

match

11:00

E - Dark vs Nice

E - DeMusliM vs uThermaL

-

11:45

G - TIME vs Elazer

G - Maru vs Semper

-

-

12:30

E - uThermaL vs Nice

E - Dark vs DeMusliM

-

-

13:15

G - Maru vs TIME

G - Elazer vs Semper

-

-

14:00

E - Dark vs uThermaL

E - DeMusliM vs Nice

-

-

14:45

G - Maru vs Elazer

G - TIME vs Semper

-

-

15:30

F - Classic vs puCK

F - Reynor vs Divain

-

-

16:15

H - Neeb vs Lambo

H - Kelazhur vs Drager

-

-

17:00

F - Classic vs Reynor

F - puCK vs Divain

-

-

17:45

H - Neeb vs Kelazhur

H - Lambo vs Drager

-

-

18:30

F - Reynor vs puCK

F - Classic vs Divain

-
-

19:15

H - Lambo vs Kelazhur

H - Neeb vs Drager

-

-
March 15

TIME GMT+8

match

11:00

Stage2 A – M1

Stage2 A – M2

12:15

Stage2 A – M3

13:30

Stage2 A – M4

14:45

Stage2 A – M5

Stage2 A – M6

16:00

Stage2 B – M1

Stage2 B – M2

17:15

Stage2 B – M3

18:30

Stage2 B – M4

19:45

Stage2 B – M5

Stage2 B – M6
March 16

TIME GMT+8

match

11:00

Stage2 C – M1

Stage2 C – M2

12:15

Stage2 C – M3

13:30

Stage2 C – M4

14:45

Stage2 C – M5

Stage2 C – M6

16:00

Stage2 D – M1

Stage2 D – M2

17:15

Stage2 D – M3

18:30

Stage2 D – M4

19:45

Stage2 D – M5

Stage2 D – M6
March 17

TIME GMT+8

match

11:30

Quarterfinals M1

12:45

Quarterfinals M2

14:00

Quarterfinals M3

15:15

Quarterfinals M4

16:30

Semifinals M5

17:45

Semifinals M6

19:15

3rd Place Decider M7
March 18

TIME GMT+8

match

10:00

Final
For the latest tournament news, please explore WESG official website: www.wesg.com/en
WESG Sponsors:

Cool Ten--- Special Sponsorship Partner
ROG (Republic of Gamers) --- Gaming PCs Provider
HyperX --- Peripherals Provider
DXRACER --- Gaming Chair Provider