WESG2017 CS:GO Grand Finals: seeding and schedule
WESG 2017 Grand Final will kick off from March 13th to 18th at Haikou, Hainan Province, China. It's time to reveal seeding of teams and schedule of matches .
CS:GO is divided into three stages:
First Group Stage: 32 teams divided into 8 competing groups

Second Group Stage: 16 teams divided into 4 competing groups

Single-Elimination stage

(

The scene to draw

)
The format of both group stages is round robin with the top 2 teams of each group will be advancing into the next round. For women's stage, each event has 8 teams, meaning the top 2 finishers per group will be advancing directly to play-off stage. A more detailed schedule, including exhibition matches, will be announced later.
Distribution of prize-pool for WESG CS:GO Grand Finals:
General Group
1st place - $800,000
2nd place - $300,000
3th place - $150,000
4th place - $70,000
5-8th place - $25,000
9-16th place - $10,000
Women Group
1st place - $100,000
2nd place - $40,000
3th place - $20,000
4th place - $10,000
First Group Stage draw of CS:GO GENERAL GROUP title is as follows
Group A-D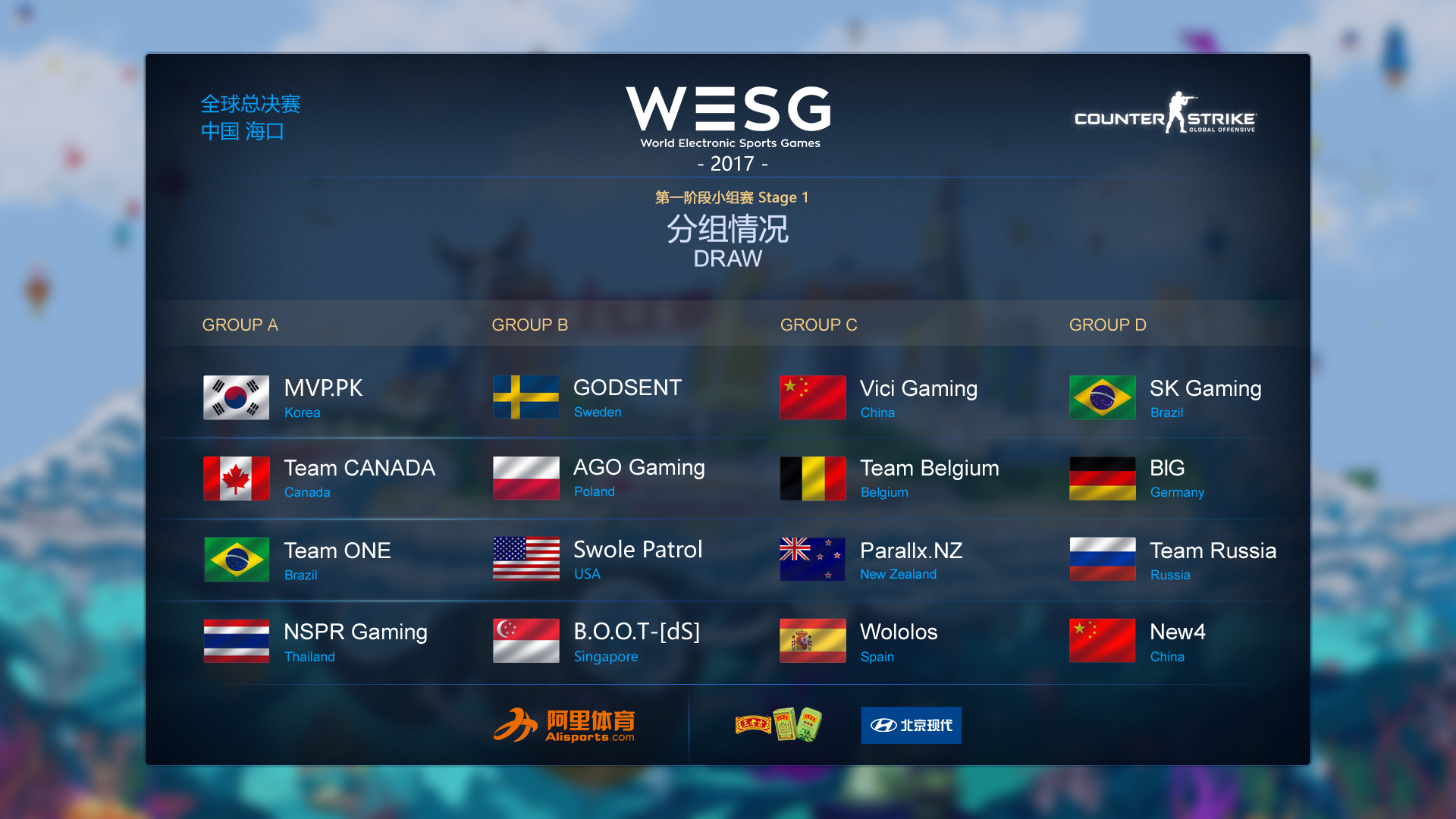 Group E-H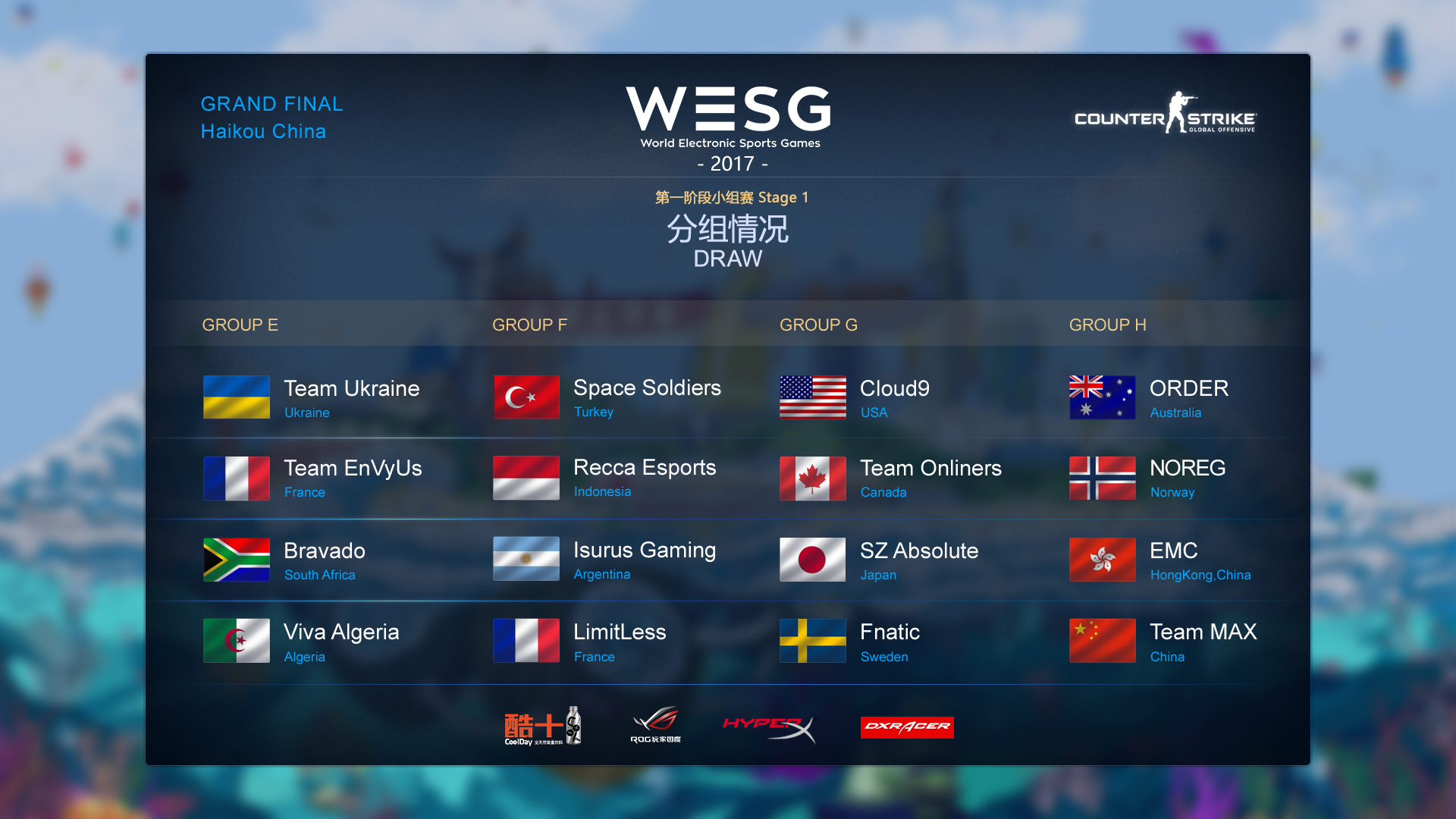 Schedule of upcoming matches at WESG CS:GO General group Grand Finals is provided below:
March 13

Time

GMT+8

match

11:00

A | MVP.PK vs. NSPR

A | Canada vs. Team One

B | GODSENT vs. BOOT

B | AGO vs. Swole

12:30

C | VG vs. Wololos

C | Belgium vs. Parallax

E | Ukraine vs. Bravado

E | EnVyUs vs. Viva A

14:00

A | MVP.PK vs. Team One

A | Canada vs. NSPR

B | GODSENT vs. Swole

B | AGO vs. BooT

15:30

C | VG vs. Belgium

C | Parallax vs. Wololos

E | Ukraine vs. Viva A

E | EnVy vs. Bravado

17:00

A | MVP.PK vs. Canada

A | Team One vs. NSPR

B | GODSENT vs. AGO

B | Swole vs. BooT

18:30

C | VG vs. Parallax

C | Belgium vs. Wololos

E | Ukraine vs. EnVy

E | Viva A vs. Bravado
March 14

Time

GMT+8

match

11:00

D | SK vs. Russia

D | BIG vs. New4

H | Order vs. EMC

H | Noreg vs. MAX

12:30

G | Cloud9 vs. SZ

G | Fnatic vs. Onliners

F | SpaceS vs. Isurus

F | Recca vs. Limitless

14:00

D | SK vs. BIG

D | Russia vs. New4

H | Order vs. Noreg

H | EMC vs. Max

15:30

G | Cloud9 vs. Onliners

G | Fnatic vs. SZ

F | SpaceS vs. Limitless

F | Recca vs. Isurus

17:00

D | SK vs. New4

D | Russia vs. BIG

H | Order vs. MAX

H | Noreg vs. EMC

18:30

G | Cloud9 vs. Fnatic

G | SZ vs. Onliners

H | SpaceS vs. Recca

H | Limitless vs. Isurus
March 15

Time

GMT+8

match

11:00

Stage2 A – M1

Stage2 A – M2

Stage2 B – M1

Stage2 B – M2

13:00

Stage2 A – M3

Stage2 A – M4

15:00

Stage2 B – M3

Stage2 B – M4

17:00

Stage2 A – M5

Stage2 A – M6

19:00

Stage2 B – M5

Stage2 B – M6
March 16

Time

GMT+8

match

11:00

Stage2 C – M1

Stage2 C – M2

Stage2 D – M1

Stage2 D – M2

13:00

Stage2 C – M3

Stage2 C – M4

15:00

Stage2 D – M3

Stage2 D – M4

17:00

Stage2 C – M5

Stage2 C – M6

19:00

Stage2 D – M5

Stage2 D – M6

21:15

Ro8 Nomination
March 17

Time

GMT+8

match

10:00

Quarterfinals M1

Quarterfinals M2

12:30

Quarterfinals M3

Quarterfinals M4

15:00

Semifinals M5

17:30

Semifinals M6

20:15

3rd Place Decider M7
March 18

Time

GMT+8

match

11:45

Final
First Group Stage draw of CS:GO WOMEN GROUP title is as follows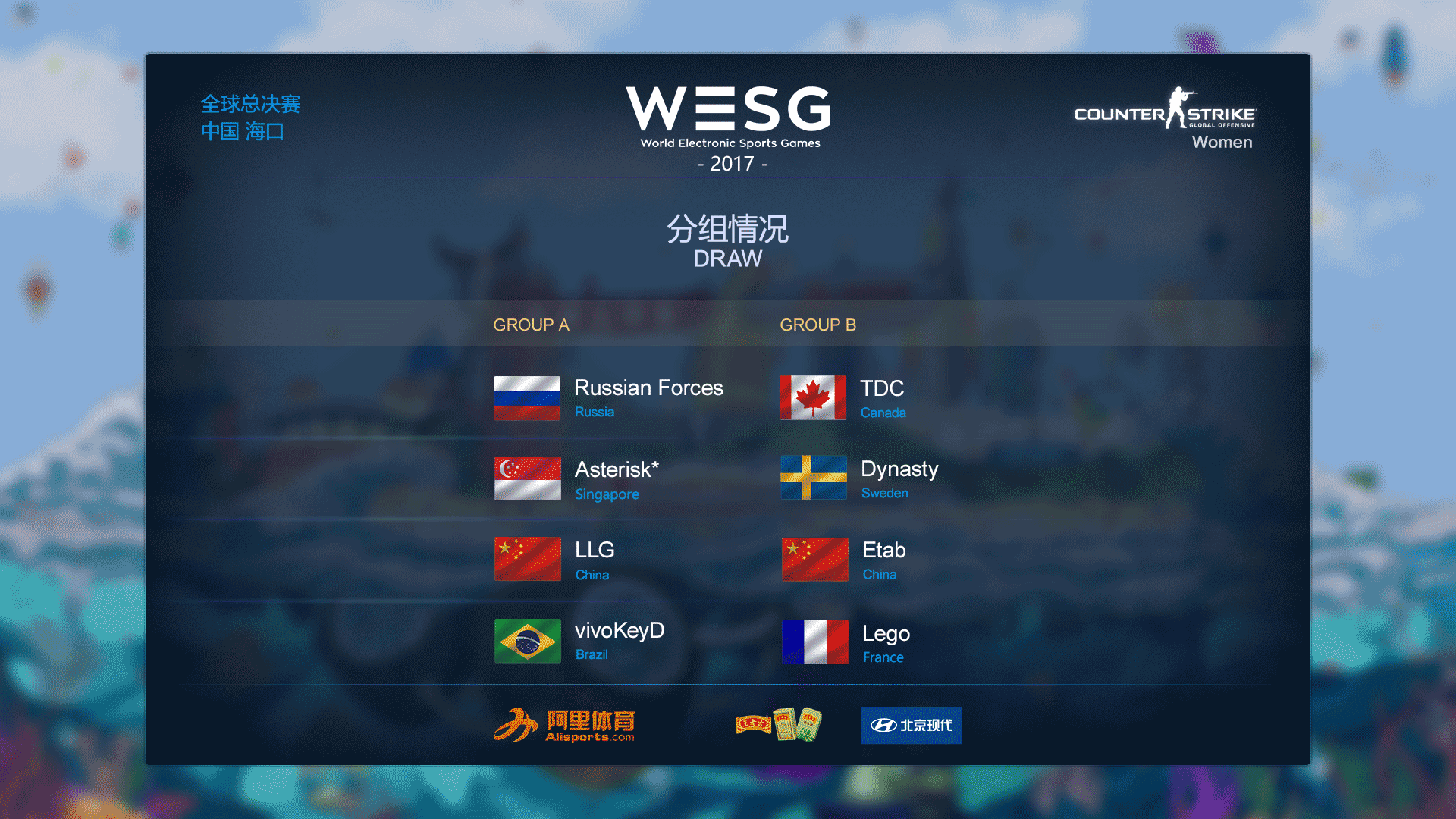 Schedule of upcoming matches at WESG CS:GO General group Grand Finals is provided below:
March 15

Time

GMT+8

match

11:00

Russian Forces vs. Asterisk

13:00

LLG vs. VivoKeyD

15:00

Russian Forces vs. LLG

17:00

VivoKeyD vs. Asterisk

19:00

RF vs. VivoKeyD

Asterisk vs. LLG
March 16

Time

GMT+8

match

11:00

TDC vs. LEGO

13:00

Dynasty vs. etab

15:00

TDC vs. etab

17:00

Dynasty vs. Lego

19:00

Dynasty vs. TDC

Lego vs. etab

21:15

Ro8 Nomination
March 17

Time

GMT+8

match

11:00

Semifinals M1

13:30

Semifinals M2

16:00

3rd Place M3

18:30

Final
The broadcast of this tournament will be going on the following channels:
For the latest tournament news, please explore WESG official website: www.wesg.com/en
WESG Sponsors:

Cool Ten--- Special Sponsorship Partner
ROG (Republic of Gamers) --- Gaming PCs Provider
HyperX --- Peripherals Provider
DXRACER --- Gaming Chair Provider