WESG2017 Grand Final is Coming
WESG2017 Grand Final is Coming
The second season of the world-class eSport tournament, World Electronics Sports Games (WESG) – an Alisports' original competition - was started back in July of 2017. After more than 7 months of regional qualifications and competitions, all the finalists have been confirmed. Now, WESG 2017 Grand Final will be held from March 13th to 18th at Haikou, Hainan Province, China. Nearly 600 players from 46 different nations and regions world will be showcasing their skills during this thrilling eSports tournament.
The tournament will include 4 main categories: HearthStone, DOTA2, CS:GO, and StarCraft II. With HearthStone and CS:GO will be including women's events during the tournament. Additionally, 'King of Fighters 14' and 'Vainglory' will be on display as demonstration matches on the main stage. 'Xiaohai', TSENG CHIA-CHEN, 'KouKou' and many other top KOF players and the best teams of Vainglory will appear in WESG, which will be a exciting show that can't be missed.
Information regarding the WESG2017 Grand Final:
Host:
Haikou Municipal People's Government.
Alisports
Organizer:
Hainan Sporting Events Co., Ltd.
Haikou Tourism Culture Investment Holding Group
Date: Tuesday, March 13th to Sunday, March 18th
Location: Haikou City, Hainan Province, China
Venue: Hainan International Convention & Exhibition Center
Prize Pool: click to view
Supporting Organization:
Haikou Culture, Broadcasting, Television, Sports and Publication Bureau
Haikou Convention and Exhibition Bureau
Haikou Science, Technology and Industry Bureau
Each main event is divided into three stages:
First Group Stage: 32 players/teams divided into 8 competing groups
Second Group Stage: 16 players/teams divided into 4 competing groups
Single-Elimination stage(The scene to draw)
The format of both group stages is round robin with the top 2 players of each group will be advancing into the next round. For women's stage, each event has 8 teams/players, meaning the top 2 finishers per group will be advancing directly to single-elimination stage. A more detailed schedule, including exhibition matches, will be announced later.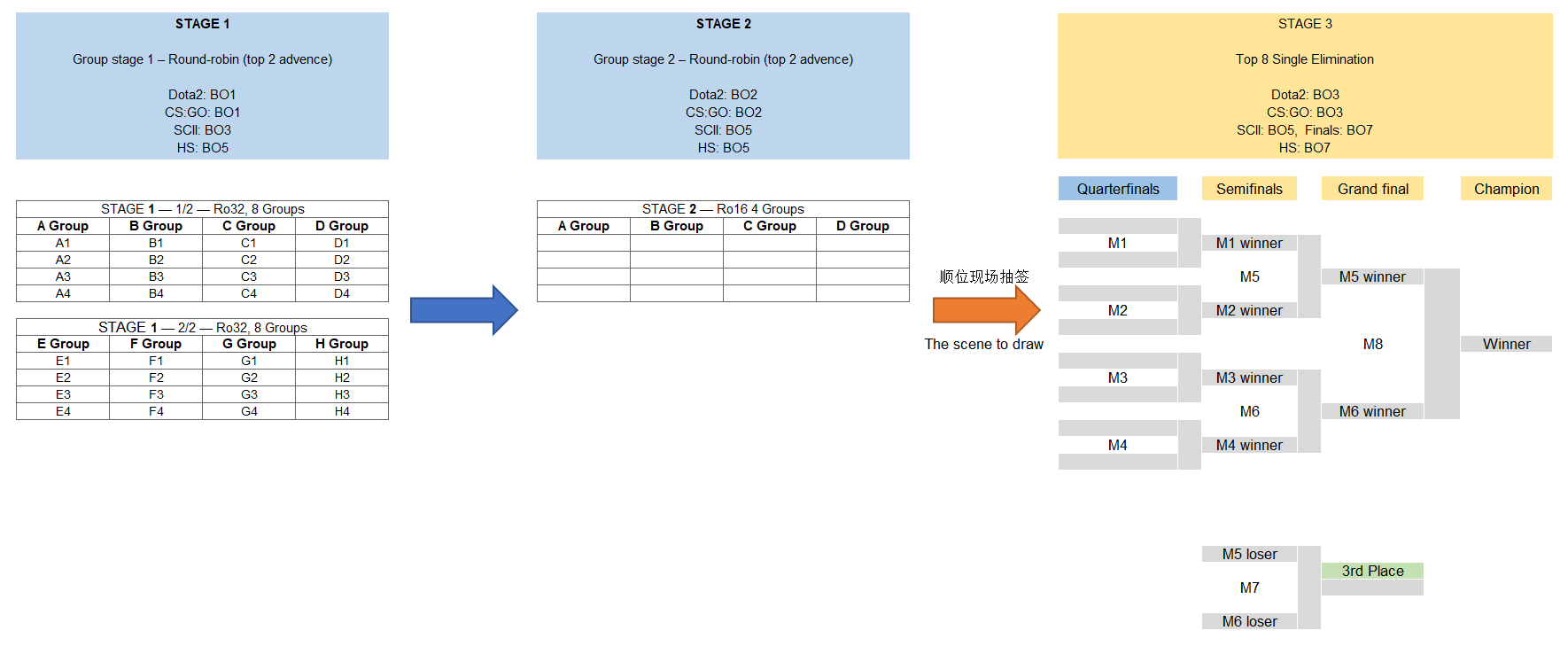 (Format)
It is undoubtedly the best moment of game for fans to witness is seeing the fierce competition between the bests players from their respective countries at the world's largest eSport tournament. This reflects the goal of WESG --- bringing eSport to every corner of the world. "Through WESG, we know how to adjust our status and how to play our best during international tournaments, which we could never know in our hometown. I feel really great." said Sheron, the woman CS: GO player from South Africa in APAC Finals.
Furthermore, international and domestic eSport stars will all be participating. Well-know competitors will include LODA, Classic, Fallen, and Fr0zen along with SK, C9, ORDER, and the defending champion EnVyUs will be contending for the highest honor in WESG. What kind of competitive fire will be sparked? Let's wait and see!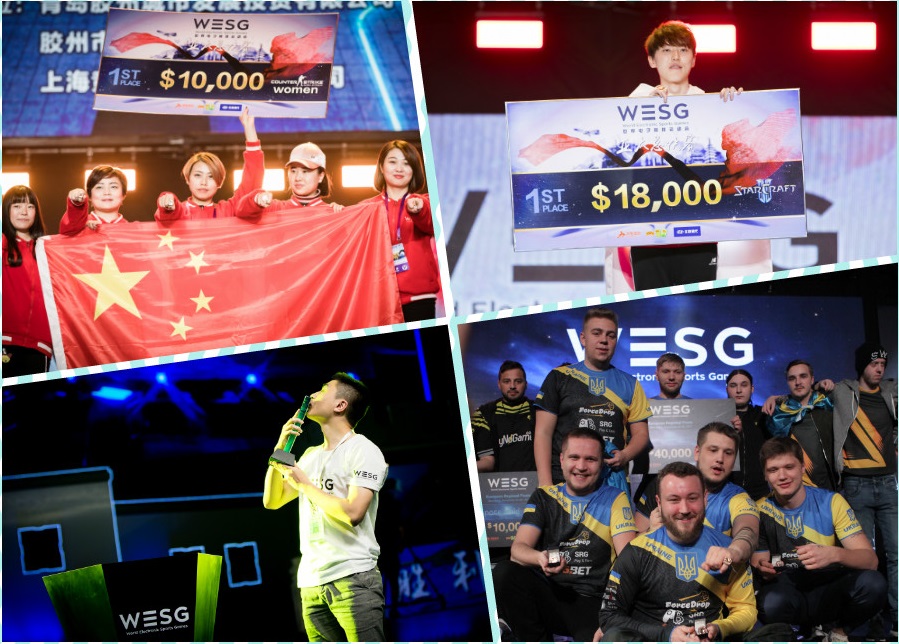 (Highlights)
Hainan International Convention & Exhibition Center, with a total land area of ​​514,000 m2 and a construction area of ​​136,200 m2, contains two areas --- the conference center and the exhibition center. Designed by "Bird's Nest" design team for the Beijing 2008 Olympic Games, the building is innovative and unique. And with the wave-shaped roof, the venue fully reflects the tropical coastal elements of Hainan.
Currently, this region is forming an ecological leisure area dominated by politics conversation, convention and exhibition along with attracting people from international businesses, leisure, vacation, and upscale living functions. With the excellent geographical environment and convenient traffic conditions, this area has become a popular place for entertainment, conference, tourism and sightseeing, which is also a 'display window' to showcase the unique culture of Hainan.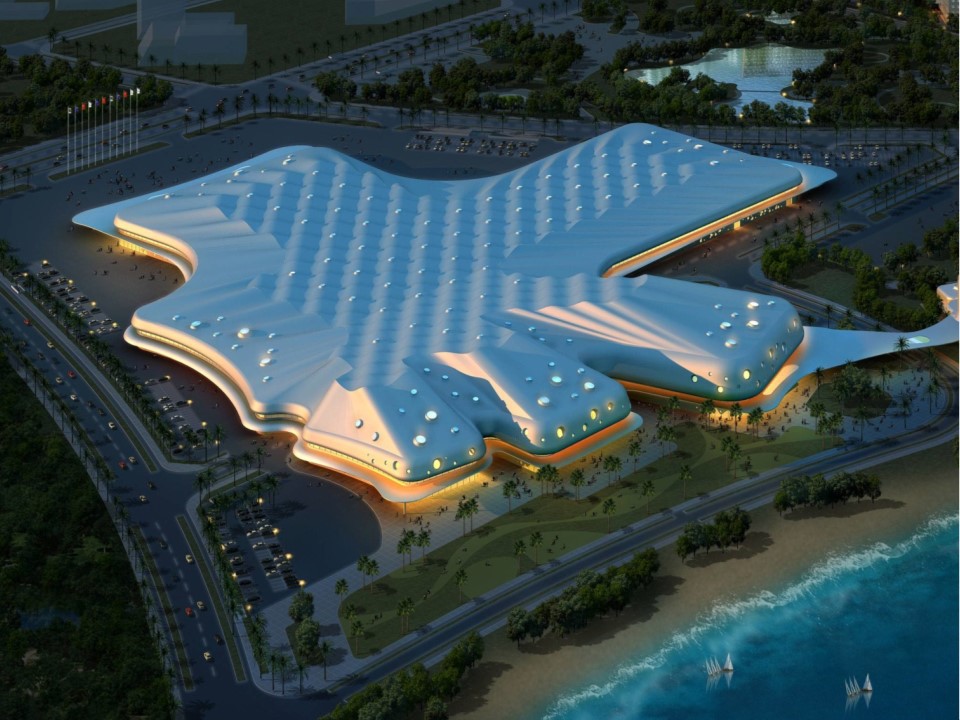 (Hainan International Convention & Exhibition Center)
The tournament will be broadcasted by Twitch, Douyu TV, Huya TV, Panda TV, Quanmin Live, Zhanqi TV, MarsTV, [外部链接], Yi, Bilibili, and other broadcast platforms.
For the latest tournament news, please explore WESG official website: www.wesg.com/en
WESG Sponsors:

Cool Ten--- Special Sponsorship Partner

ROG (Republic of Gamers) --- Gaming PCs Provider

HyperX --- Peripherals Provider

DXRACER --- Gaming Chair Provider